Siglead's original FPGA evaluation board designed for high-speed signal processing, wireless communication and image processing.
PDF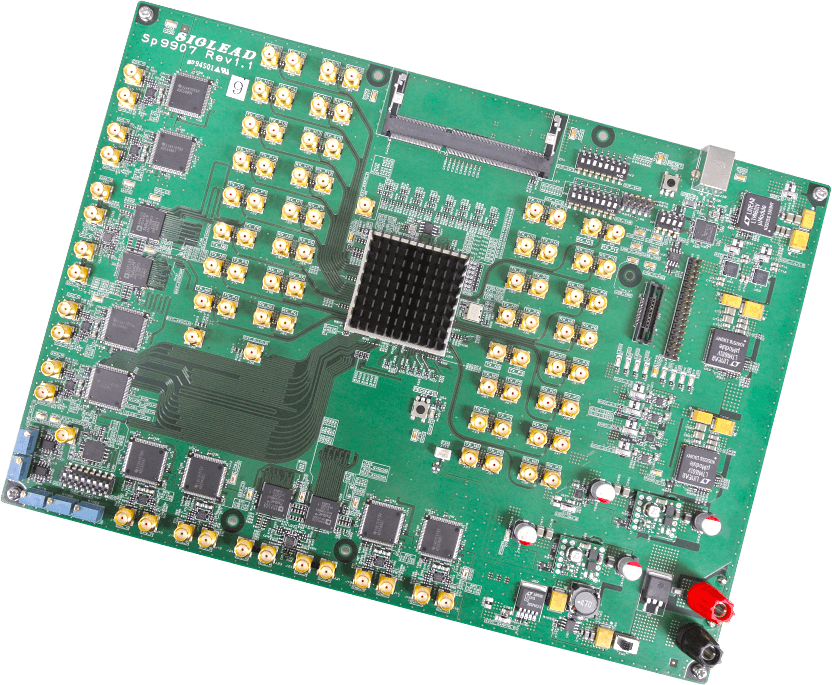 Introduction
A FPGA board designed for evaluation of high-speed signal processing, such as wireless communication, etc. Bydefault, it is equipped with Altera FPGA(StratixIV), high-speed ADC/DAC, USB controller, SODIMM connector.
Applications
Wireless communication
Others, application for handling high speed signal
Features
ADC/DAC
SMA connector (differential)
AD converter 12bit 1Gsps 8channel
DA converter 14bit 2.4Gsps 4channel
Clock
25.000MHz oscillator
150.000MHz oscillator
SMA input
On-board PLL
Configuration
Serial configuration device
JTAG download port
Memory
DDR3SDRAM 204pin SODIMM (Max 4GByte)
Interface
USB2.0 B-connector( x1)
SMA connector for Transceiver
TX/RX 16pair
MICTORconnectorfor logicanalyzer
(32pins for user)
Universal user interface
DIP switch (x16)
Push button (x1)
LED (x8)
12V Switching power supply
Block Diagram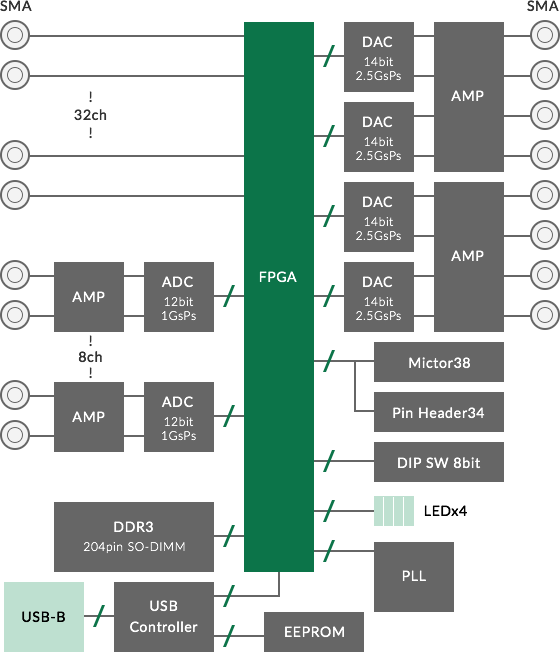 Customization
Possible to meet various demands such as changing conversion rate, resolution and channel number of ADC/DAC etc.
【Customization example 】
3Gsps 8bit ADC
200Msps 14bit ADC 4channel
200Msps 16bit DAC 4channel
For more information/customization on FPGA board with high-speed ADC, please contact us.
* The content might change without a previous notice due to the improvement.